The mission of the Florida Capital Chapter and national Society of Government Meeting Professionals (SGMP) is to enhance and promote the expertise of government meeting professionals.
Message from SGMP Florida Capital Chapter President Steven Hall, Tallahassee, FL
Welcome to SGMP Florida Capital Chapter! We invite you to join us as we work to rebuild the meetings and events landscape in our region. So many planners and suppliers alike were impacted by the COVID-19 pandemic. Colleagues we had worked with for years furloughed, fired, or had to relocate or change careers. The industry is already bouncing back in many ways, but the damage inflicted will take years to fully heal. The same is true for the toll it took on SGMP, locally and nationally.

The board for 2021-2023 welcomes all planners and suppliers to work with us to re-energize the chapter and the industry in our region. Our focus will be to meet the professional needs of our members by developing and holding quality educational (and even some fun) events. We want to help planners and suppliers, new and old, connect or reconnect with each other throughout the region, strengthening relationships and ensuring each has a broad base of contacts. To do this, we need you! Throughout our term we will be conducting periodic surveys and constantly trying to learn from you what your needs are and how we can be of service.

Our meetings are still virtual for now, but we look forward to meeting you in person soon. Feel free to reach out to me or any board member with any ideas or suggestions you may have. We have committee openings if anyone wants to get more involved. Join us on this adventure to rebuild!

Date: June 20, 2023
Time: 5:30-7pm
Speaker: Panel Discussion
Program: Installation of New Officers, Discussion of Chapter Plans
Location: Online and In Person at FAMU College of Pharmacy. 1415 S. Martin Luther King Blvd., second floor, Room 210​​​​​​​
Sponsor: Florida Capital Chapter SGMP
Registration: Register Online
Complete our SGMP Florida Capital Chapter Member Survey by 20 May 2023!
Join our email listserv to stay updated on events!
Watch recording of April 2023 Active Listening with Dr. James L. Moran
Watch recording of March 2023 Ethics: What Would You Do with Latrial Hardwick
Watch recording of How to incorporate volunteerism and community service into your meetings with Rose Patterson and Steven Hall
Watch recording of October 2022 Event Cancellation and Force Majeure with Steven Hall
Watch recording of September 2022 Work Life Balance for Leaders with Dr. Gabrielle K. Gabrielli
Watch recording of July 2022 Negotiations in the Entertainment Industry with Chester Johnson, Jr.
Watch recording of March 2022 Diversity, Equity, and Inclusion with Dr. Gabrielle K. Gabrielli
Watch recording of January 2022 ABCs of Government Event Planning with Garland Preddy
Watch recording of November 2021 Contract Drafting & Review by a Pro Bono Nonprofit General Counsel with Reginald Mitchell, Esq.
Watch recording of June 2021 with Mike Kelly, Director of Sales, Holiday Inn Tallahassee East Capitol - Universities
Watch recording of April 2021 Industry Updates session with Michael Dominguez, President and CEO, Associated Luxury Hotels International.
---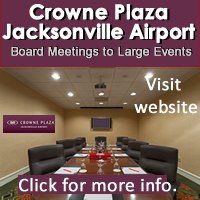 Want to gain visibility for your business? Click to connect with a representative and sponsor this ad space!