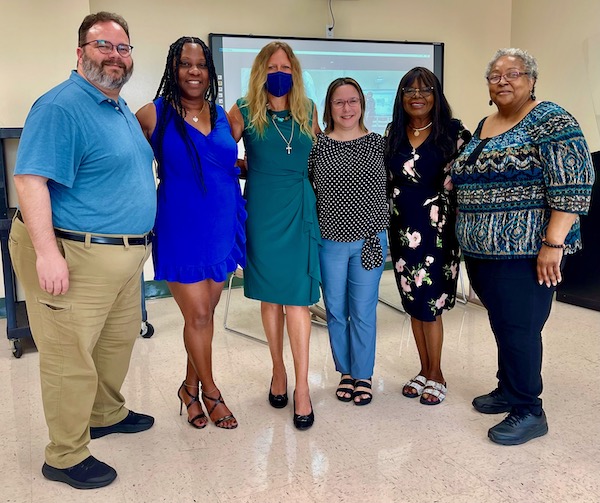 The mission of the Florida Capital Chapter and national Society of Government Meeting Professionals (SGMP) is to enhance and promote the expertise of government meeting professionals.
Message from SGMP Florida Capital Chapter President Dr. Gabrielle K. Gabrielli, Tallahassee, FL
Welcome to SGMP Florida Capital Chapter!

The board for 2023-2025 welcomes all planners and suppliers to work with us to connect members of the chapter and the industry in our region. We welcome everyone regardless of background and experience, we believe strongly in diversity, equity, and inclusion, and we work hard to meet the professional needs of our members by developing and holding quality educational events that are also fun. We help connect planners and suppliers, strengthening relationships and showcasing why we should do business with each other. To do this, we need you! Throughout our term, we will be conducting periodic surveys and constantly trying to learn from you what your needs are and how we can be of service.

Our meetings are hybrid with in person and online options. Feel free to reach out to me or any board member with any ideas or suggestions you may have. Let us know if you would like to get more involved by serving on a committee. We look forward to having your active participation!

Date: Tuesday 19 December 2023
Time: 5:30-7pm
Speaker: Gabrielle K. Gabrielli, Ph.D.
Program: Holiday Celebration
Location: Online and In Person at Gabrielle Consulting, 3035 Eliza Road (two parking lots are available, one on Eliza Road and a closer one on Powell Road.)
Sponsor: SGMP
Registration: Register Online (Please pay in person as we are working to obtain access to our PayPal account.)
Complete our SGMP Florida Capital Chapter Member Survey by 20 December 2023!
Join our email listserv to stay updated on events!
Watch recording of November 2023 session on Corporate Social Responsibility with Kristie Teal and Dr. Gabrielle K. Gabrielli.
'Watch recording of September 2023 Professional Development Benefits of SGMP with Dr. Gabrielle K. Gabrielli, Gabrielle Consulting and Janet Roach, Visit Tallahassee
Watch recording of July 2023 Strategic Planning with Dr. Gabrielle K. Gabrielli
Watch recording of June 2023 New Board of Directors Officer Swearing In and Discussion
Watch recording of April 2023 Active Listening with Dr. James L. Moran
Watch recording of March 2023 Ethics: What Would You Do with Latrial Hardwick
Watch recording of How to incorporate volunteerism and community service into your meetings with Rose Patterson and Steven Hall
---

SGMP Florida Capital Chapter president Dr. Gabrielle K. Gabrielli facilitated a strategic planning session, and participants developed the following in a hybrid meeting with some in person and some remote.
Mission - to enhance and promote expertise of government meeting professionals through networking, education, and supporting stakeholder priorities
Vision - to exemplify a sustainable organization with strategies that drive exceptional leadership in government meeting professionals