The mission of the Florida Capital Chapter and national Society of Government Meeting Professionals (SGMP) is to enhance and promote the expertise of government meeting professionals.
Message from SGMP Florida Capital Chapter President Dr. James Moran
Thank you for this amazing opportunity to be of service to each of you as your SGMP Florida Capital Chapter President.
We are blessed to have a very talented board and a membership of strong leaders who are incredibly supportive of each other, as well as passionate about serving the organization.
I pledge to continue in lock-step with the goals and objectives of the chapter, and it is my desire to lead with humility to meet the needs of our membership.
The work and growth of the chapter is not a mission that can be accomplished alone. It requires the efforts of the entire body to attract new members, to develop vibrant and fully engaged committees, and to provide informative educational workshops and networking opportunities.
I hope that you will join us and bring a friend to our monthly workshops. There are multiple opportunities designed to fit your talents. I am excited about your involvement in the SGMP Florida Capital Chapter in Tallahassee, Florida. I look forward to hearing from you!
Dr. James Moran, President, Florida Capital Chapter SGMP

Date: February 19, 2018 *Monday
Time: 5:30PM - 7:00PM
Speaker: Vincent Hunt, Creators Camp
Topic: Leveraging Technology to Spark, Nurture, and Expand Personal and Professional Relationships
Location: Gabrielle Consulting's Leadership Development Center, 3035 Eliza Rd. (2 parking lots...closest on Powell Rd. and the other on Eliza Rd.)
Sponsor: Gabrielle Consulting
Registration: Register Online
---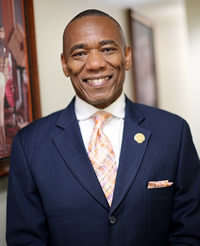 Dr. James Moran, SGMP Florida Capital Chapter President
---